Conversion & Distribution
Decimator MD-HX (HDMI / SDI Cross)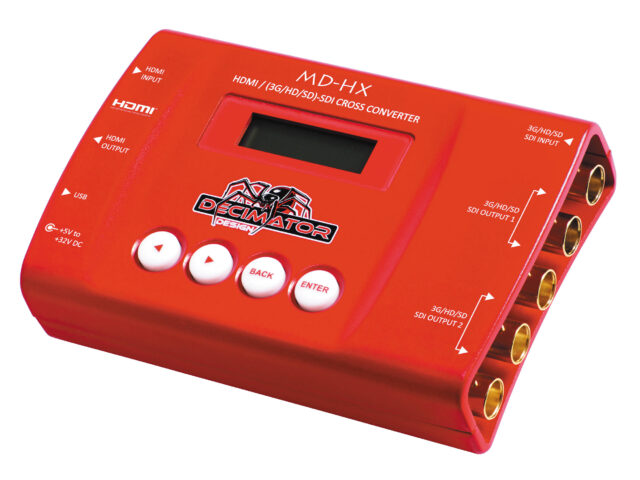 Downloads
* Hire prices subject to a 5% settlement discount for payment within the agreed period. T&C's apply.
The Decimator Design MD-HX Miniature HDMI/SDI cross converter combines capabilities usually reserved for a computer controlled converter. It is a compact independent device, deploying the exact same cross converter used in Decimator's larger MD-DUCC – which has a proven track record of success.
The MD-HX delivers both an HDMI and a 3G-SDI input and has the capacity to cross convert either signal to the other. In addition, it features a built-in scaler and frame rate converter as well, allowing you to convert the input signal to your required output standard.
Supports both 3G level A and B on the input and output. Allowing conversion between A and B.
 Horizontal and/or Vertical image flipping via the built in scaler.
 Combines several converters for the price of one (e.g. SDI to HDMI, HDMI to SDI, Down Up Cross Converter, etc.)
 Robust Aluminium Case with easy to use LCD and button control system.
 4 x (3G/HD/SD)-SDI outputs, that allow it to be used as a 1 to 4 distribution amplifier. Output pair 1 can either be a copy of the SDI input (default) or the same as pair 2.
 The audio pairs in the SDI and HDMI outputs can be rearranged as required.
 Includes the same Down Up Cross Converter from the multi-award winning MD-DUCC, allowing either the HDMI or SDI input to be scaled and/or frame rate converted to the required standard.
TECHNICAL DETAILS
Inputs
HDMI, HD-SDI
Outputs
HDMI, HD-SDI
Max Resolution
1,920 x 1,080
Weight
0.3kg
To hire call 01733 371 250